JOHN MELLENCAMP: Headed to the Songwriters Hall of Fame
John Mellencamp, who is already a member of the Rock and Roll Hall of Fame, is now headed into the Songwriters Hall of Fame.
He will be inducted in June along with country superstar Alan Jackson and Kool & the Gang. Also going in this year are R&B star Jermaine Dupri, singer-songwriter Bill Anderson, Steve Dorf (whose credits include George Strait, Lee Greenwood, Kenny Rogers and others) and Allee Willis, who co-wrote the Broadway musical The Color Purple and the theme song for Friends.
The ceremony will be held June 14th at the Marriott Marquis Hotel in New York City.
Nominees who were not elected this year include Alice Cooper, Mariah Carey, Chrissie Hynde and The Isley Brothers.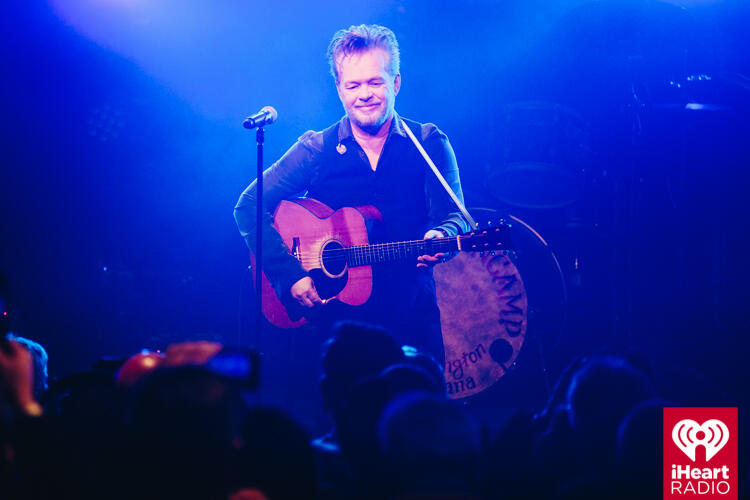 Photo: Katherine Tyler for iHeartRadio" />
Mellencamp performed on Colbert on CBS last week:
THE BEACH BOYS: Pet Sounds coming to vinyl
The Beach Boys' 1966 album Pet Sounds will soon join the Back to Vinyl movement.
A limited-edition colored vinyl LP edition goes on sale Friday. The 130-gram pressing puts the stereo mix on a yellow and green vinyl disc.
Featuring the classic songs "Wouldn't It Be Nice," "God Only Knows" and "Caroline, No," Pet Sounds ranks number-two on Rolling Stone magazine's list of the 500 Greatest Albums of All Time, trailing only The Beatles' Sgt. Pepper's. THE TEMPTATIONS: Dennis Edwards may have been the victim of elder abuse
Dennis Edwards may have been a victim of spousal abuse.
Days after the Temptations singer died at 74, allegations have surfaced that his wife Brenda may have tried to suffocate him.
According to the Saint Louis Post Dispatch, a senior care organization sought a protection order at Edwards' request on January 12th; it was granted a week later. In the meantime, the singer was removed from the Chicago home he shared with his wife and hospitalized for medical reasons.
In a statement issued Monday night, Brenda Edwards says she "would never have done anything to harm him. These allegations are false and defamatory and will be proven as such. Until this is all over, I have no further comment."
Chicago police confirm they are looking into the matter. DIRTY DANCING : Songwriter surprised at Super Bowl TV ad
A few days before the Super Bowl, songwriter Franke Previte got an unexpected call from the person who arranges for his work to to be used in commercials.
His agent told him, "Guess what? What a great way to start the year." That was how he learned his Dirty Dancing classic "(I've Had) The Time of My Life" would be used in an NFL ad re-enacting the Patrick Swayze - Jennifer Grey dance scene. He was sure to tune in and see how.
Here's Frankie Frevite on his first thoughts of what was being planned:
"I had no idea that it was going to be Odell Beckham and Eli doing the Lift Scene. I mean [chuckle], I almost fell off the couch."