BIG Music News: John Mellencamp, Dennis DeYoung
JOHN MELLENCAMP: Rock 'n roll legend doesn't look back
John Mellencamp recently did an interview with Salon.com, and he gave a lot of insight into how his past shapes who he is now. Here are some of his best quotes:
"I have this studio [in Nashville, Indiana], because I used to get into fights with other musicians when we worked out of the big studios in New York or L.A.... One of the guys from The Cars

[and] I got into a bad one with another guy from Man-O-War."
"I laugh when I hear musicians talk about playing for their legacy. What the [hell] are you talking about? There's no legacy. None of us will be remembered. Maybe people will remember

Frank Sinatra, Elvis,

Chuck Berry, maybe even Dylan. That's about it."
"If you are in the public eye, and you haven't been booed off stage at least once, you haven't done anything worth [crap]."
"Happiness and sadness walk hand in hand. I don't think about, 'Am I happy?' or 'Am I sad?' I just am."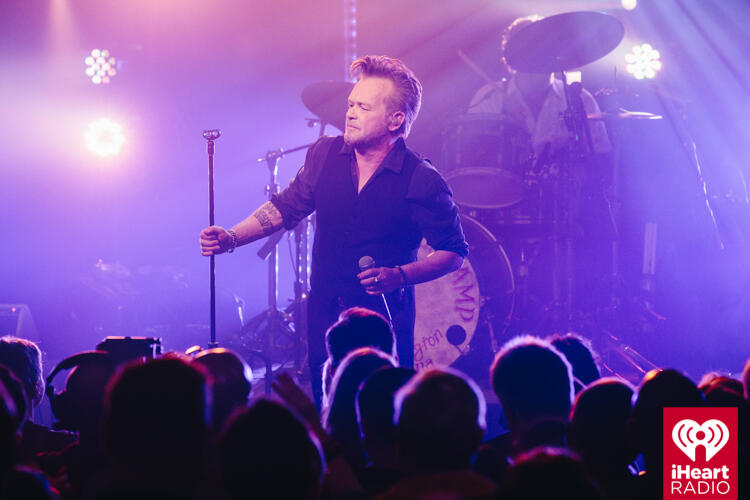 Photo: Katherine Tyler for iHeartRadio
DENNIS DeYOUNG: Planning a new album
The original voice of Styx posts on Facebook that he's already written more than 20 songs dealing with such topics as the current political and social climate to "observations on the inevitable passage of time, mortality, and what is ultimately important in this journey called life." Four of the songs were written with another veteran Chicago rocker, Jim Peterik of Survivor and Ides of March.
Having turned 70 back in February, DeYoung admits, "At my age things are really coming into focus. What I have discovered... life's still a mystery."
Dennis promises, "it won't all be heavy serious stuff or I would have to offer free Xanax with every purchase, should anyone actually buy this thing." He teases that there's a tune about The Beatles on The Ed Sullivan Show as the British Invasion, and "a typical proggy thing in the style of Rubicon. I love that tune."
OTHER BIG MUSIC NEWS HEADLINES:
Peter Frampton, who is on tour opening for Steve Miller, has been sitting in with him on two old blues songs each night: Howlin' Wolf's "Who's Been Talking?" and "Stranger Blues" by Elmore James. The tour moves to Toronto tomorrow (Tuesday).
Elton John will play in the nation of Georgia for the first time on September 16th.
Debbie Harry and Chris Stein of Blondie served as honorary Queen and King at Brooklyn's Mermaid Parade Saturday. The 35th annual procession on the Coney Island beachfront is considered the unofficial start to summer in the area.
Anglo-American singer-songwriter and keyboard player Nicky Holland, who has written and toured with Cyndi Lauper, Tears for Fears and David Byrne, will reissue her 1990s recordings July 28th through Sony/Legacy.
Director Quentin Tarantino was in The Moody Blues' audience Saturday night at the Hollywood Bowl.
The Rock and Roll Hall of Fame will open an annex in Tokyo in September.
Daryl Hall and John Oates have added five September shows in the south. These dates, beginning September 22nd in Cedar Park, Texas, include opening act Saint Paul and the Broken Bones. The duo continue teaming with Tears for Fears through July.

Big 95 Morning Show
Want to know more about Big 95 Morning Show? Get their official bio, social pages and articles on Big 95!
Read more