BIG Music News: John Mellencamp, Stevie Nicks
JOHN MELLENCAMP: Releases another song from his new album
John Mellencamp has another new song available, which is not on his new album, Sad Clowns & Hillbillies.
He has recorded a version of the 1946 Merle Travis song "Dark as a Dungeon" for From the Ashes, a new documentary about the legacy and future of the coal industry in the U.S. The movie is airing on the National Geographic Channel and this week Mellencamp released his video of the song.
Click here to check it out on YouTube.
Mellencamp will be interviewed on CBS Sunday Morning this weekend. He sat with the show's host, Jane Pauley, in his Indian art studio, and on the back of his motorcycle as he took the fellow Hoosier on a ride. CBS Sunday Morning airs at 8am.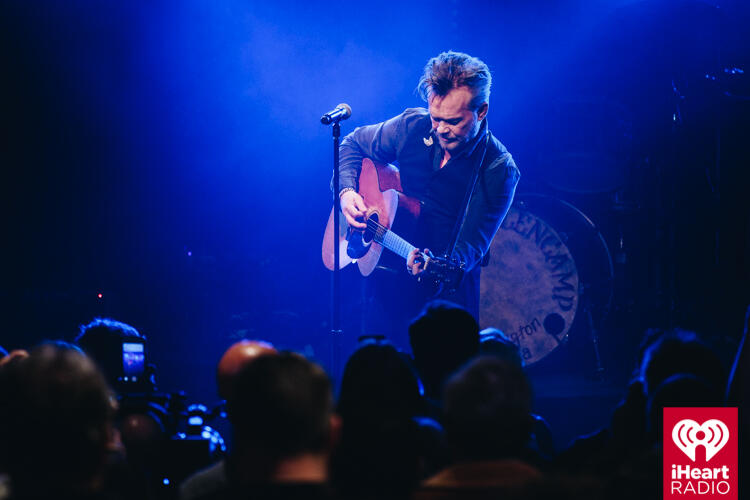 Photo: Katherine Tyler for iHeartRadio" />
STEVIE NICKS:
Stevie Nicks not only sings with Lana Del Rey on "Beautiful People, Beautiful Problems," which is on the pop star's new album, Lust for Life, she's helping to promote it by interviewing Lana for V magazine.
The magazine's editor, Stephen Gan, says, "We talked about how Lana speaks to a whole generation of 20- and 30-year-olds, and we thought about who had done that before -- and we came up with Stevie Nicks. After we paired them up, we found out that they had collaborated on a Lana's new album. It was an amazingly happy coincidence, because we just thought that Lana was this generation's Stevie Nicks."
In the article, Stevie says, "We're the ones that are here to lighten, to lighten life, to light the lanterns and the little fairy lights, and try to keep people going. We have to have hope. We have to believe this will all end up OK and that we'll all end up OK. Because if we don't do it, then who the hell is gonna do it?"
The issue, dated July 6th, features Lana on the cover. STEVE MILLER: Expanded editions of some albums on the way
Steve Miller started his recording career 50 years ago, and to mark the milestone, Capitol Records and Universal Music Enterprises will release expanded editions of some of his albums.
Miller has given the label access to his archive of music, footage, photos, memorabilia, artwork, handwritten notes, journals and more to include in the upcoming releases. Universal will put out his catalog projects, and new material will be released through Capitol. Miller, as always, will direct the concept and curation of the catalog releases, with the first one being announced soon.
Miller is on tour this summer with Peter Frampton. STEAM: Lead singer Gary DeCarlo has died
Gary DeCarlo, the voice and co-writer of Steam's "Na Na Hey Hey (Kiss Him Goodbye)" has died. He'd recently entered hospice after cancer -- which had been in remission for several years -- returned in 2016. He was 75.
The Bridgeport, Connecticut native was a veteran of suburban New York bands, a session player and a singer when he collaborated with Paul Leka and Dale Frasheur [pr: FRAY-zher] on the bouncy song that hit number-one in 1969 -- and went on to become a ballpark anthem.
He never originally received due recognition or compensation for his role in the gold-selling single. Steam never actually existed. The lineup sent to appear on American Bandstand and on tour was assembled after the recording and included no one who performed it.
DeCarlo finally began to claim his name as the voice of Steam in the past decade, performing in package shows and appearing at fan fests, including the 2010 Rock Con in New Jersey.
In 2015 conversation, Gary DeCarlo recalled how the Steam hit "Na Na Na Na Hey Hey (Kiss Him Goodbye)" was created in a New York studio with producer Paul Leka and musician Dale Frasheur:
"'Kiss Him Goodbye,' which was something that we had written early in the '60s. A blue shuffle -- it didn't have the chant. The chant was born the night we went into the studio. He took a drum track off a Neil Sedaka song, 'Sugar.' Then things were layered -- it was all piano, organ, vibes, and I played percussion on a board. No guitars, no bass. I did my vocal... let's see we went in at seven o'clock that night; and by five in the morning it was just the way you hear it on the radio. It just had to be mastered."

Big 95 Morning Show
Want to know more about Big 95 Morning Show? Get their official bio, social pages and articles on Big 95!
Read more